#seriousaboutwildlifecrime

World Wildlife Day
Some nights as lie awake remembering the moments I have spent in the company of Africa's extraordinary wildlife, my mind drifts to a darker place and I can't help but wonder if the animals I have photographed are still alive? If they are hunting, grazing, mating, playing, fighting–living their lives. I lie awake wishing it was all a very bad dream…
Elephants, lions, rhinoceros, vultures, apes, wild dogs…the list goes on. They are all disappearing under our watch. Slaughtered for body parts carved into fashion acccessories and sipped in magic elixirs, hunted for meat and traded for money, trapped and sold for our entertainment and amusement. Black market animal trafficking is now estimated at a staggeing 7-9 BILLION dollars, not far behind drugs and weapons.
#seriousaboutwildlifecrime: Elephants
Sadly, the numbers do not lie…
Since 1930 Africa has lost 99% of its elephant population. There were approximately 10 million elephants in the 1930's and the African Wildlife Foundation now estimates the population closer to 470,000 individuals. While the elphant numbers dwindle. the price of ivory in China has risen from $750 USD/kilo in 2010 to $2,100  in 2014.
Magnificent tusks in the Mara North @seriancamps. © NJ Wight 2014  #seriousaboutwildlifecrime

#seriousaboutwildlifecrime: Lions
When I was born, approximately 200,000 lions roamed the plains of Africa. Today, 50+ years later, with a growing human population encroaching on thier ranges, there are only an estimated 20,000 remaining. The decline is staggering. I cannot imagine a world without lions, and yet, it may happen in my lifetime. (See World Lion Day: Long Live the King)
An annoyed male in Mara north shares his feelings with a lioness when she refuses to let him see his cubs. @seriancamps ©NJ Wight 2014 #seriousaboutwildlifecrime
#seriousaboutwildlifecrime: Rhinoceros
I have been blessed to photograph both black and white rhinoceros. The rhino currently faces what is perhaps the most intense threat of all African wildlife. Horn is now considered to be more valuable on the black market than cocaine and diamonds and at $60,000 kilo, it is the most valuable commodity in illicit wildlife trafficking business. It is mostly all going to the east. In South Africa the penalty for trafficking in small amounts of cocaine starts at 5 years in prison. For rhino poaching the fine is a very affordable 14k. The numbers released from South Africa this year paint a dismal picture for the rhinos future. 2014 was a record breaking year for the largest population, losing 1215 animals,  210 more than 2013. D0uble the number from 2012. 1 every 8 hours…
The total number of slaughtered rhinos in South Africa since 2000 is now +3993.
This 4 month old white rhino, nicknamed Shrek, was taken in the Sabo Sands in 2013. I often wonder if he is still playing on the beach… #seriousaboutwildlifecrime
#seriousaboutwildlifecrime: Wild Dog
With only 3-5,000 individuals left, the African wild dog is considered one of the most endagered animals in the world. A pack of dogs will traverse a range as big as 900 square miles and as the human population continues to grow and spread, the dogs are being forced to live in smaller and smaller areas. This presents more difficult hunting challenges and inevitably leads to deadly conflict with farmers and herders. The reduced roaming area has also weakened the gene pool for reproduciton. Closer contact with domestic animals has introduced rabies and distemper into the wild dog population, killing large numbers of dogs.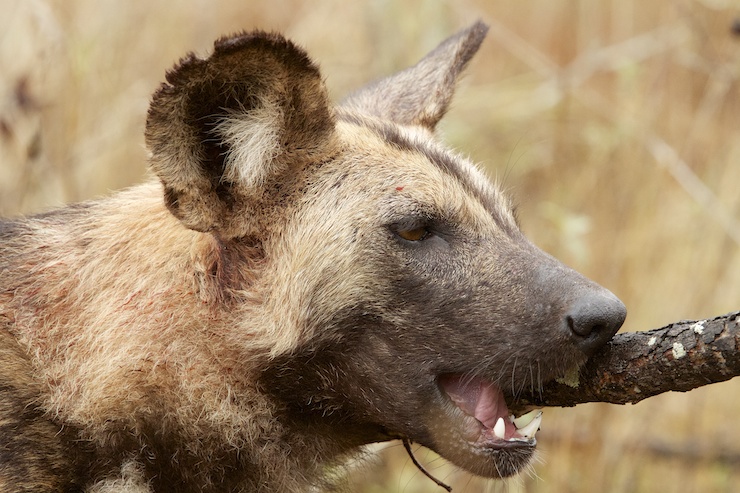 Wild dog in the Sabi Sands. ©NJ Wight 2013 #seriousaboutwildlifenow
#seriousaboutwildlifecrime: Humans
Nelson Mandella said, "Education is the most powerful weapon we can use to change the world."
It is really up to all of us…
Please share and tweet with #seriousaboutwildlifecrime
Sign up for news from NJ Wight's Wild! Life!

Promote Passion–Like, Share, Tweet…or do whatever it is you do! Thanks, NJ
You can also find me as NJ Wight on Facebook