Big Cats of the Mara
Part One: Malaika the Cheetah
In November 2014 I spent some time in the Maasai Mara National Reserve staying in two of the private conservancies that border the park. The 35,000 acre Olare Motorogi Conservancy is owned by 277 Maasai landowners in partnership with five tourism operators. It has abundant wildlife and a very low visitor footprint restricted to the five operating camps, including the one I called home for four days, Kicheche Bush Camp. The wonderful thing about staying in the conservancy is that there is far less traffic moving about and even a great sighting will have a significantly lower number of vehicles.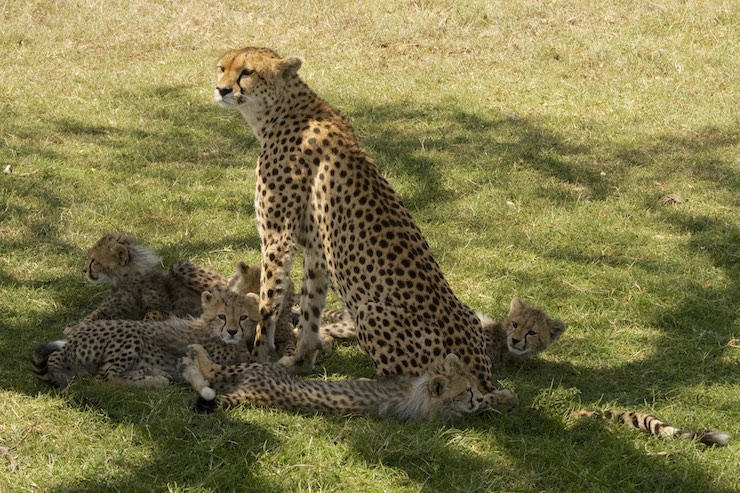 During my stay last year I was fortunate to meet Malaika and her 5 cheetah cubs on a day drive to the National Reserve. Malaika, meaning "angel" in KiSwahilli, is the daughter of Kike, a cheetah well known to many who watch the Big Cat Diaries. I was lucky to see Malaika with her 5 very young cubs (her original litter was 6) which were probably about 3-4 months old at the time. I had two sightings with her family and had a great time photographing them as the cubs burned some energy and kicked up some dust.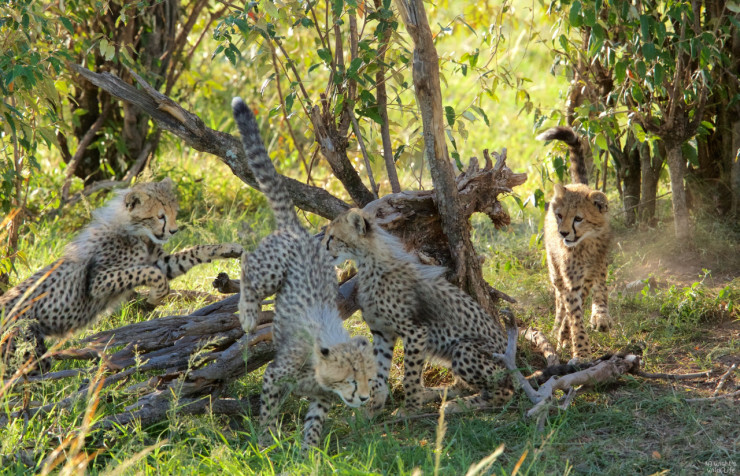 Wild Cheetah Status
In 1970 the wild cheetah population was estimated at about 15,000. Today, the numbers are half of that, with approximately 7,500 cats living in South Africa, Botswana, Namibia and East Africa. In Kenya, cheetahs are now only seen across 23% of their historical geographical range. (For more information visit Mara-Meru Cheetah project) Cheetahs have a very tough life in the wild and Malaika was going to have her work cut out for her keeping these five young cats alive. The mortality rate for cheetah cubs in the wild is estimated between 75%-90%, with half falling victim to predators. While they are formidable hunters that can reach top speeds of  70kmph, they are small cats by comparison averaging about 56kg, and it is not unusual for a solitary female to lose her kills to much larger lion and hyena. Cheetahs are built for speed, not for fighting. The cubs are very vulnerable to attack and she will move them every couple of days to try to keep them safe. So, I knew when I left last year that Malaika would be faced with a great challenge and that the odds of her raising her cubs to adulthood were stacked against her.
Malaika in 2015
When I returned to the Mara this month, photographing Malaika with her cubs was very high on my wish list. To improve my chances with cheetah sightings I stayed inside the reserve for 3 nights at Alex Walker's Serian Nkorombo camp along the rushing Mara river. Game drives in the reserve can be quite different than in the conservancies with far more traffic roaming the park and greater restrictions on driving off-road. But that did not deter my guide James from getting me up close with Malaika and her family once again.
We spotted her quite far in the distance on our first drive into the reserve. She has 3 cubs with her now, around 15 months old. One cub died and another was recently separated from the family. However, during my visit we heard there had been sightings of the lost cub and the hope is he is managing to take care of himself on his own. Cheetahs will generally stay with their mother for about 15-24 months but will not be mature hunters until around the age of 3. These cubs are definitely learning the ropes from a Mother that is a dominant hunter and has succeeded thus far at keeping her remaining family healthy.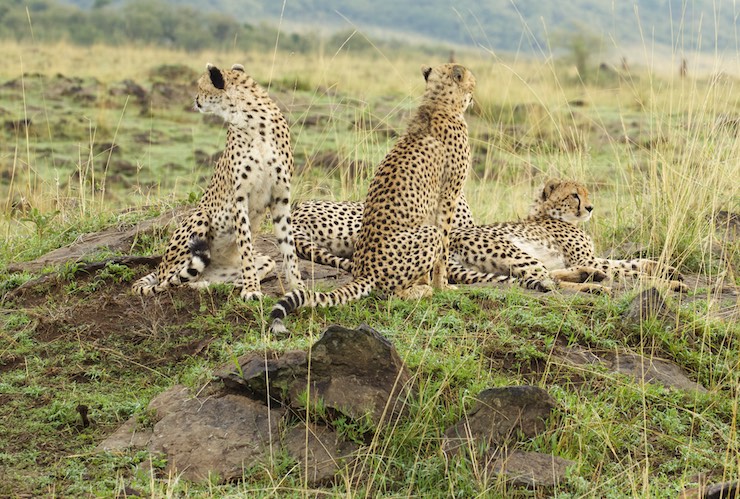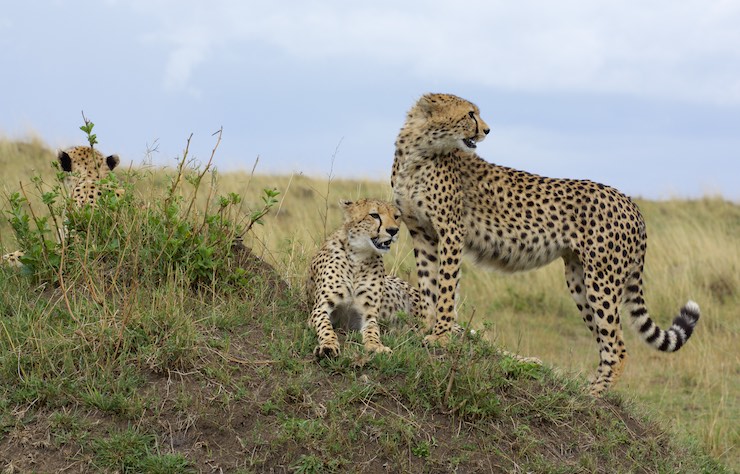 On my second morning we left camp just before sunrise and we were lucky to spot the family after a short drive, just as the sun was coming up.  The cubs were active, moving around and beginning to welcome the day. A few half-hearted attempts at chasing warthogs served as a warm-up for what lay ahead.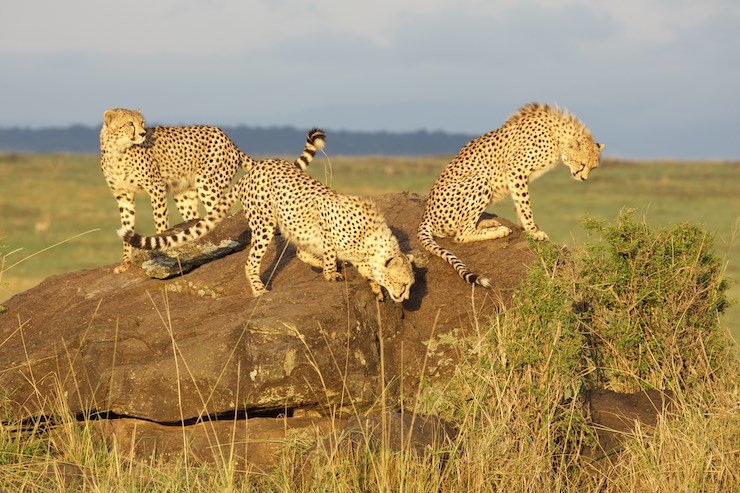 After moving out into the open plain, in the space of 3o minutes they had successfully brought down a baby gazelle, followed by a scrub hare. It is never easy to see any animal die, but it was very encouraging to see these young, endangered animals having great success learning to take care of themselves. The speed and distance they were covering however, made it a challenge to photograph!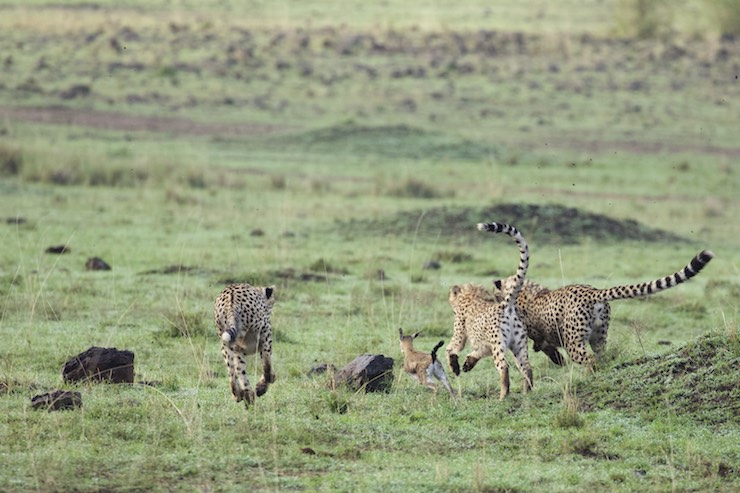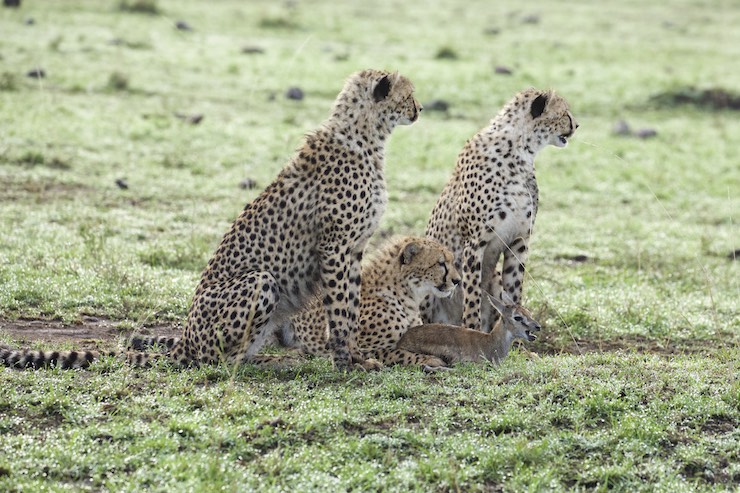 It was quite interesting to observe that after catching the young animal they did not immediately kill it, but rather, they sat with it for several minutes possibly catching their breath. Only moments after they had finished with this kill, they walked through a small patch of tall grass surprising a scrub hare. As it darted off, two of the cheetahs were very quick to pursue. Within moments, a second, much smaller meal was secured.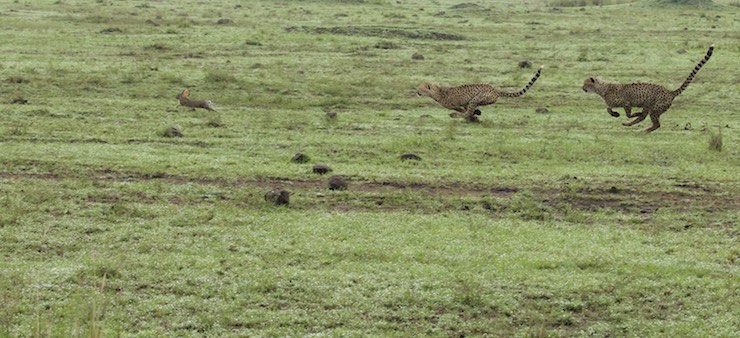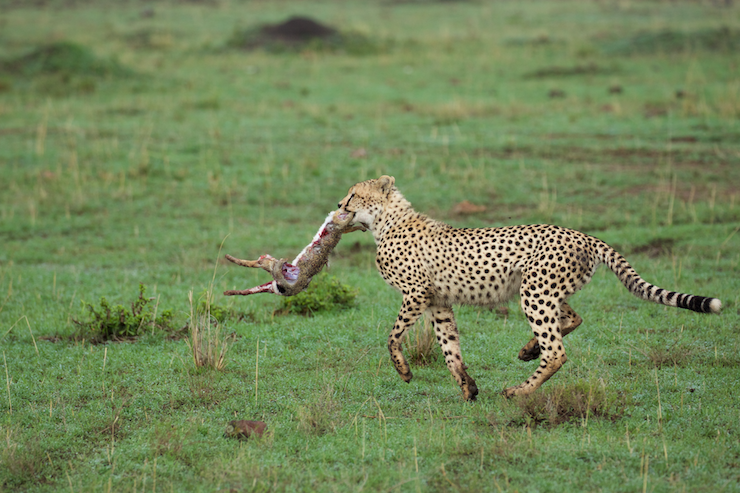 And after a good meal it was time to for a little grooming.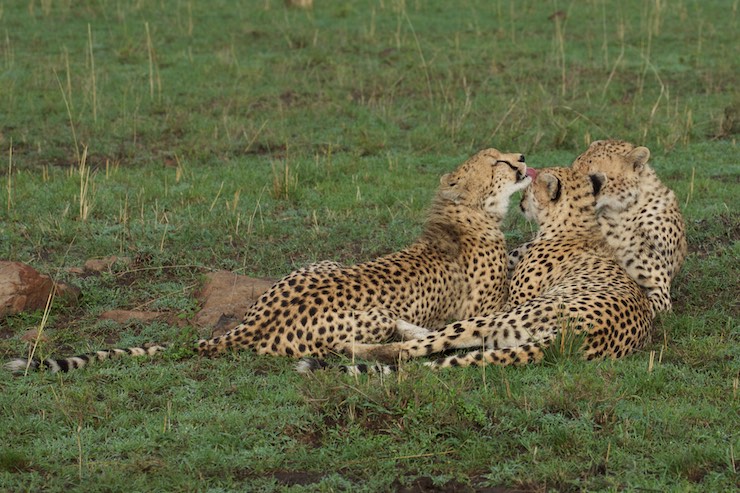 I feel very blessed to have been able to see these cats on two separate trips a year apart and to learn more of their story to know their story. Hopefully they will stay healthy and will continue to thrive in the Maasai Mara National Reserve.
Perhaps one day we shall meet again…
Available now! NJ Wight's WIld! Life 2016 calendar: The Young Ones
For more on cheetah's take a look at When Cheetah's Kill: Through a Photographers Eyes
Thanks for supporting my work.