Big Cats of the Mara
Part Two: The Cheli & Peacock Pride
In November 2014 I travelled to Kenya and spent 4 nights at Alex Walker's Ngare Serian in the 30,000 hectare Mara North Conservancy. The conservancy borders the Maasai Mara Reserve and is a partnership between 800 Maasai land owners and eleven camps. The Mara North supports low-impact tourism and game viewing is generally excellent, with high animal densities and lower vehicle traffic. It was no exception last November–especially for lion sightings.
(Please also see: Part One of Big Cats of the Mara: Malaika the Cheetah)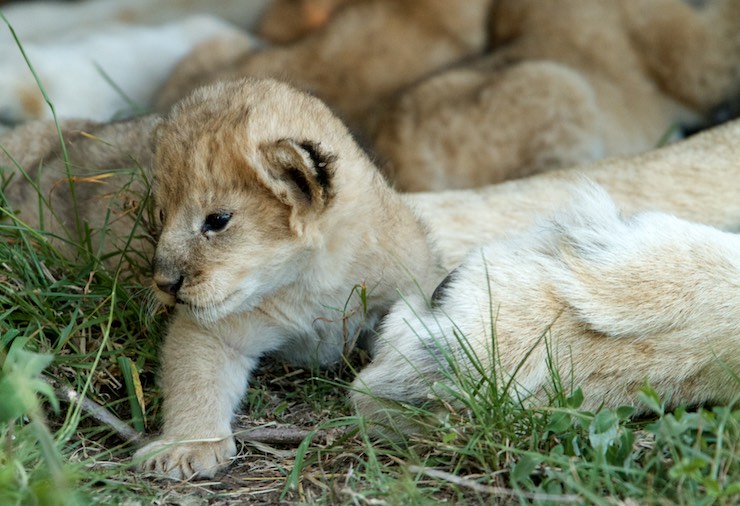 One of the highlights of the trip in 2014 was photographing three sets of lion cubs that ranged in age from one week old up to a month old. The three lionesses watching over them were all members of the Cheli & Peacock Pride, which has resided in the Mara North for many years.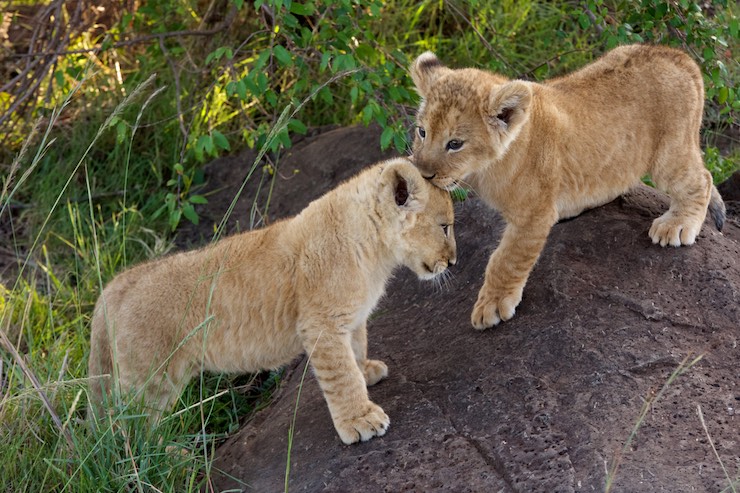 The cubs were always a challenge to capture, hidden away safely from predators, including hyena and lions from challenging prides. A lioness will give birth to her litter after about 110 days and she keeps her cubs isolated for up to 6 weeks. Not even the father is allowed to visit. She will move them every few days to make sure they are out of danger and their scent does not attract unwanted attention. Once they are a little older, she will introduce them to the pride.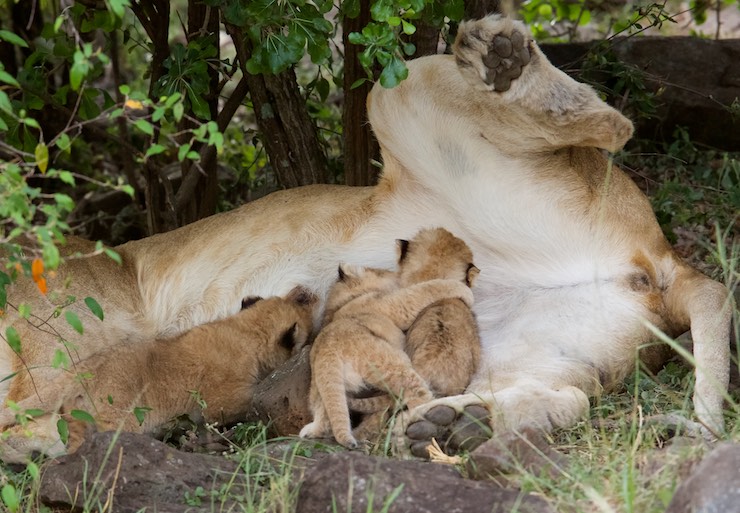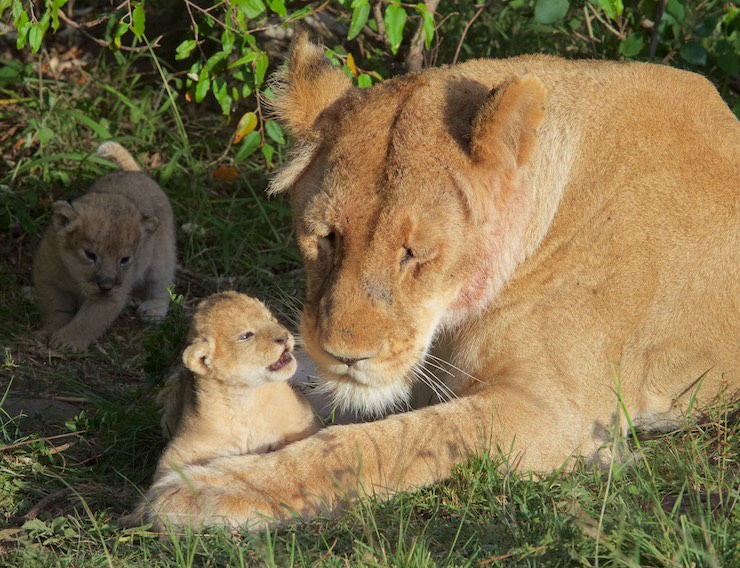 In November of this year I returned to the Mara North to look for these special young cats that I had so enjoyed photographing. Although I had previously learned that a couple of the cubs had not survivied, I was optimistic I would have a sighting with some of the remaining siblings and cousins. The cubs would now be just over a year old and while I would not recognize the individuals, I was looking forward to seeing the larger family together.  Happily, it did not take long to find them!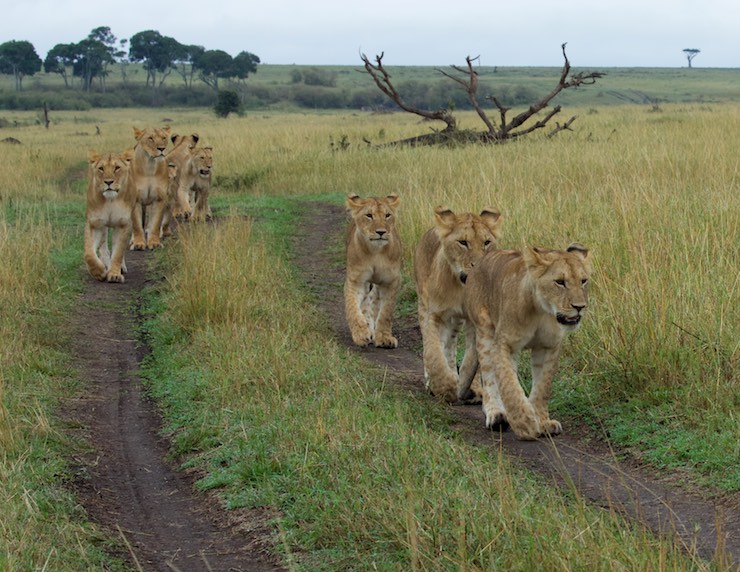 Over the course of the next 4 days we came across members of the pride on several occasions and I was able to photograph them playing, eating, wrestling and sleeping. It was thrilling for me to see them again knowing that some of these magnificent young lions were the little guys I had documented a year ago as they were just learning to walk. They appeared healthy and strong, their "baby spots" faded, but still visible on their golden coat, and their play-fighting offered a glimpse of the rank and order that was unfolding.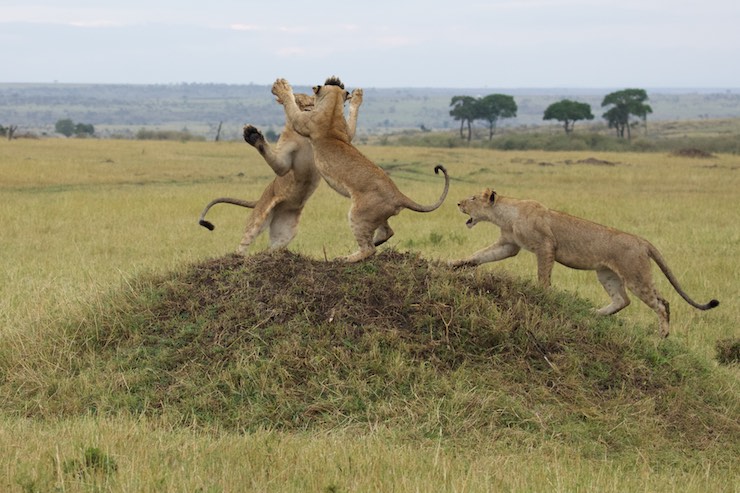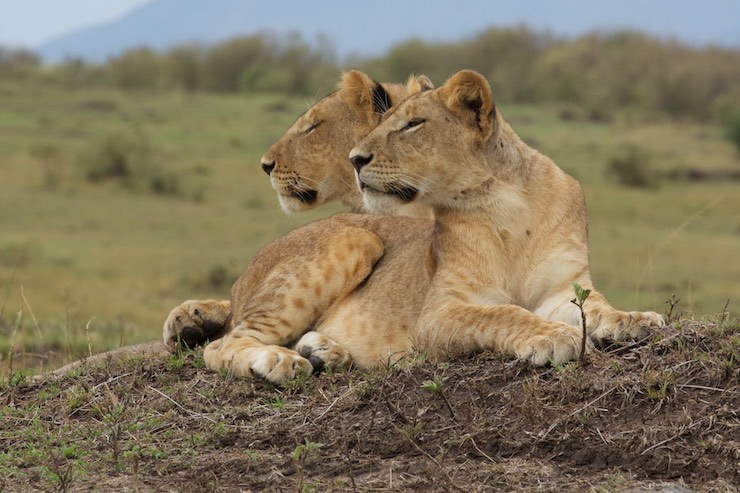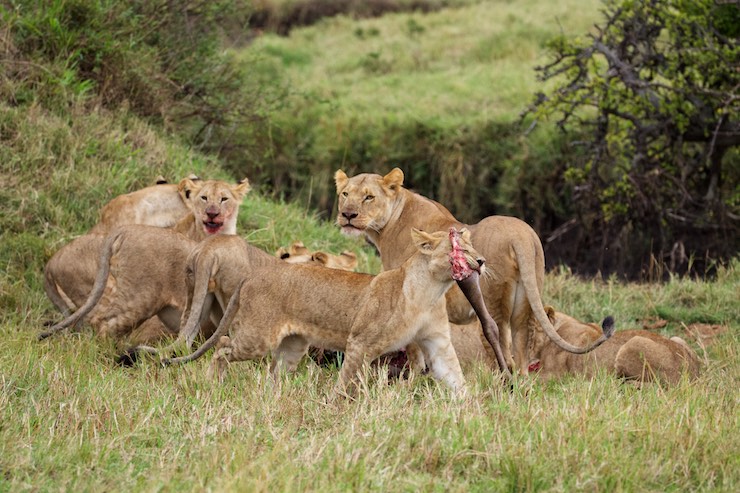 On one particular day my attentive guide James spotted something deep in the thickets, very close to where we had previously seen a lioness feeding on a kill. After positioning the truck and getting down on the floor, I was able to find a small opening in the bushes and my lens was greeted with a very tiny face–the next generation of the Cheli & Peacock pride, eyes still closed and just a few days old.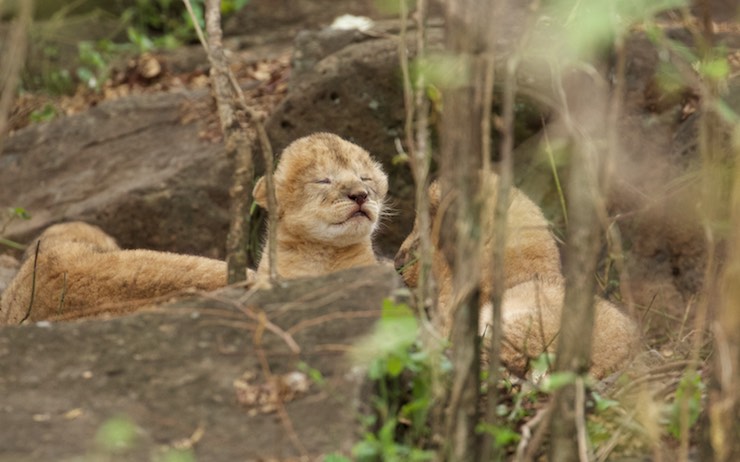 Seeing these animals again, having the privilege of watching them grow up and being afforded a very small glimpse into their lives, has been a very rewarding experience as a photographer. With all of the hardship lions are facing–hunting, poaching, loss of territory and more recently, several tragic poisonings–being able to tell their stories and share their world has become critical to me. Perhaps if we can come to know these individuals and make a deeper connection with their lives through photos and stories, we can find our way to ensuring these big cats of the Mara can stay safe and continue to thrive.
I certainly hope so…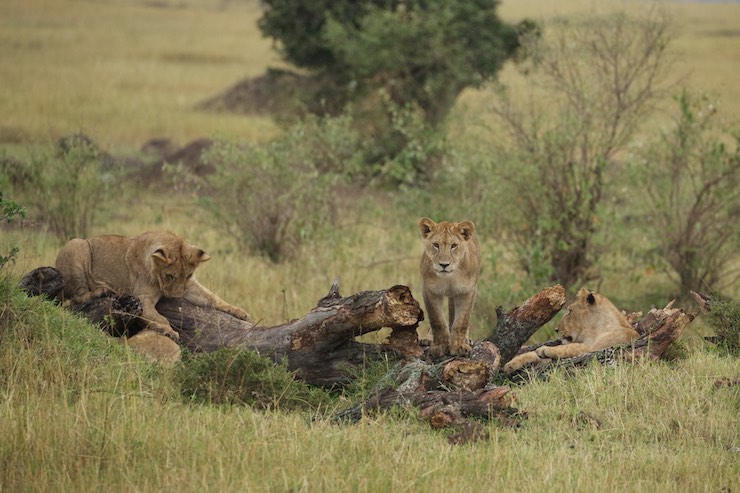 For more on the lion prides I have photographed, visit A Celebration of Lions for World Lion Day.
Part One of Big Cats of the Mara: Malika the Cheetah can be found here.