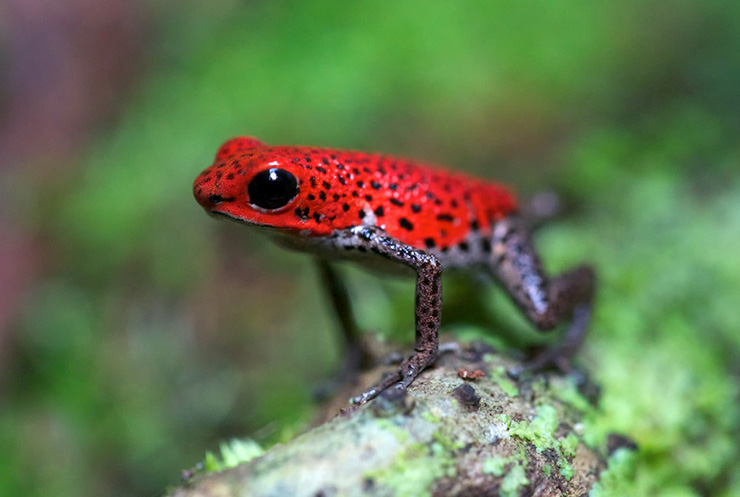 Oophaga pumilio…better known as the strawberry poison dart frog, is a gorgeous little amphibian-dude that lives across Central America. These are terrestrial beings (meaning they hang out on land) and are active during the day, making it a somewhat easier to go traipsing around the rainforest searching them out. What I found interesting about photographing these creatures was how accommodating they were. I mean, aside from sitting knee-deep in mud, soggy from humidity and being knawed on by bugs, the frogs themselves are rather patient and engaging. Once spotted, I could generally get down on my knees and move relatively close up for a shot. They didn't seem to mind, although they certainly preferred to keep their backs to me.
My first task was finding them. Given this was a maiden voyage to their territory, (a side trip to Bocas del Toros while in Panama photographing hummingbirds) I was not exactly sure what to look for and I walked the same path, back and forth, without so much as a single click of the shutter. The first encounter was thanks to a naturalist that I was fortunate enough to go hiking with. He pointed out a tiny red  fleck on the low branch of a tree. I had not expected them to be so tiny and bright! After this gleeful introduction I began retracing my steps in the jungle and suddenly my eyes had no problem spotting several little gems to spend time with.
They do like to hang out in the leaf litter so the trick to discovering them was to keep an eye on the vegetation just below my knee and slightly off the path.  Their vibrant colour is a beacon in the bush!  They are very tiny beings–imagine the size of a regular strength Tylenol, but with itsy-bitsy, silvery-blue speckled legs. The biggest challenge was getting myeslf close enough to shoot them. Staying dry and clean was out of the question–but that's part of the fun! Balance is key when photographing something so small with a macro lens, in my case the Canon 100 f2.8 IS L. When you are up close and absorbed in making an interesting image, it is very possible to falter and reach out to steady yourself. I am prone ot tipping over in these situations. This is not a good idea in the rainforest where you have no idea what might be hiding at the bottom of the grass that is climbing your calves or what might be fasy asleep on the slippery moss of the tree trunk next to you. Not to mention, be careful not to touch these little guys. Their skin is toxic. (Interestingly, this toxicity is not present in frogs born in captivity, leading scientists to believe the toxins form from the diet they consume in the wild–which is where they belong.) These frogs put you through your paces as they squeeze between entwined vines, slip under decaying leaves or cling to the underside of wide grass blades. It requires some elaborate body contortions to get your camera into a position low enough for a capture. With these controtions there was no relying on tripods or monopods for stability and pre-storm skies created further challenges with light, already in short supply under the rainforest canopy.  I was pushing the ISO to 6400 and using a shallow DOF, making shooting conditions less than optimal for these photos.
Still, I had an absolute blast mucking about and talking quietly, trying to coax one of these little ruby-red jewels to look me in the eyes!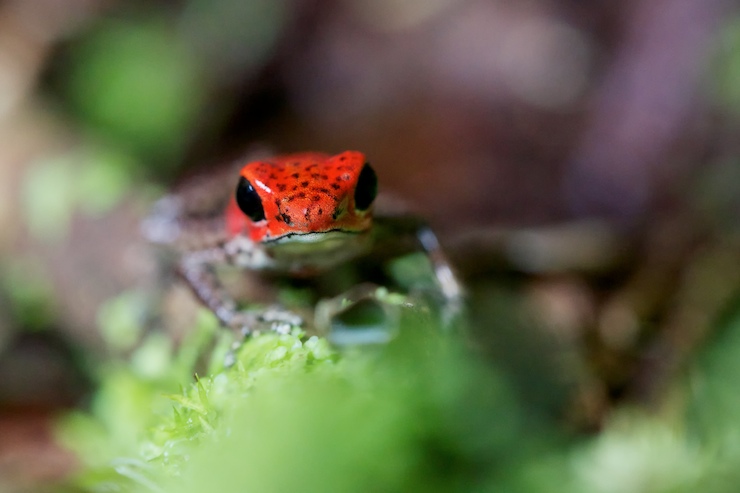 If you like little creatures, why not check out Flapneck Chameleons: Emerald Wonders!
Sign up for NJ Wight's Wild! Life!

Promote Passion–Like, Share, Tweet…or do whatever it is you do! Thanks, NJ
You can also find me as NJ Wight on Facebook