Giving Thanks on World Lion Day
The killing of Cecil the lion has caused an uproar around the world as so many become aware of the tragic situation facing Africa's biggest cat. Let us hope that Cecil's death can bring change and help end the senseless slaughter of these majestic animals. In just over 50 years the lion population has plummeted from approximately 250,000 in 1975 to about 20,000 today. This leaves only 3,000 or so older breeding males–the prime target of trophy hunters–and the future of the lion populations. (See this national Geographic animation for an understanding of the rapid decline.) 
Just as poaching is decimating the elephant and rhino populations, so is it affecting the the big cats. According to CITIES, there were 6,652 lion trophies exported between 2000-2009 and ignorance surrounding the "medical" benefits of animal parts further fuels the black market trade. Loss of habitat and human-animal conflicts are on the rise. I would urge you to visit The Big Cat Initiative and learn  more about the challenges facing the lion population and how you can help.
I have had over 40 encounters photographing lions in Africa and this year, in honour of World Lion Day, I would like to celebrate all the new life–the lion cubs–the next generation of what hopefully can be a growing population of  panthera leo.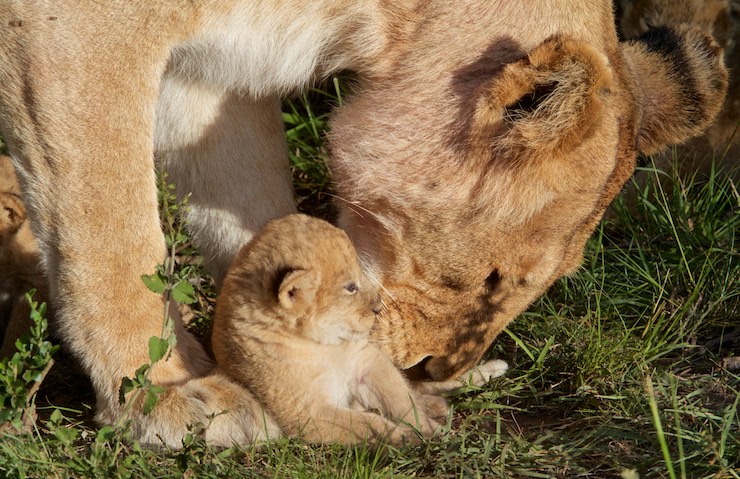 You never forget your first lion…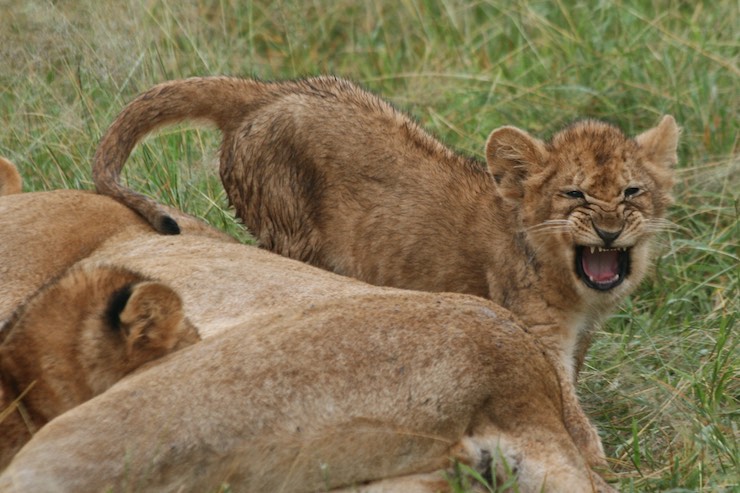 In 2007 I made my first trip to Africa to safari in Tanzania. I also bought my first DSLR to take pictures along the way. Several things happened on that trip–we were stranded in the Serengetti due to out of season torrential rains, I fell in love with Africa, I discovered my love of photography and…I saw my very first lion cubs! We were staying in the Grumeti sector of the Serengeti with @ beyond and there was a small pride with five cubs. We watched for over an hour and I was taken with this little guy who was practising his best snarl.
I have been lucky to observe cubs in 5 of the 6 countries I have visited. I have seen cubs just over a week old and learning to use their paws and open their eyes, jumbles of youngsters and tangles of tawny fur tossing themselves this way and that, adolescents and sub-adults almost ready to strike out on their own. For the most part it has been joyful. However, nature poses some difficult challenges on young lives and I have sadly witnessed cubs in distress.

This is "Buddy" a young cub in the Okavango Delta in 2008. He had lost his paw in an altercation with a predator. He was a marvel to watch, tumbling with his two siblings and making his own way through the tall grass. But sadly, a week after we met, his Mom hid him and his siblings away while she went off to hunt. A nearby pride had made a kill close by and the cubs, likely lured by the smell of the meat, came out to investigate the remains. The lions returned to their kill and while the two other cubs managed to scatter back to safety, Buddy couldn't get away fast enough and was killed. I was glad I had met him and he certainly struck me as a brave little soul.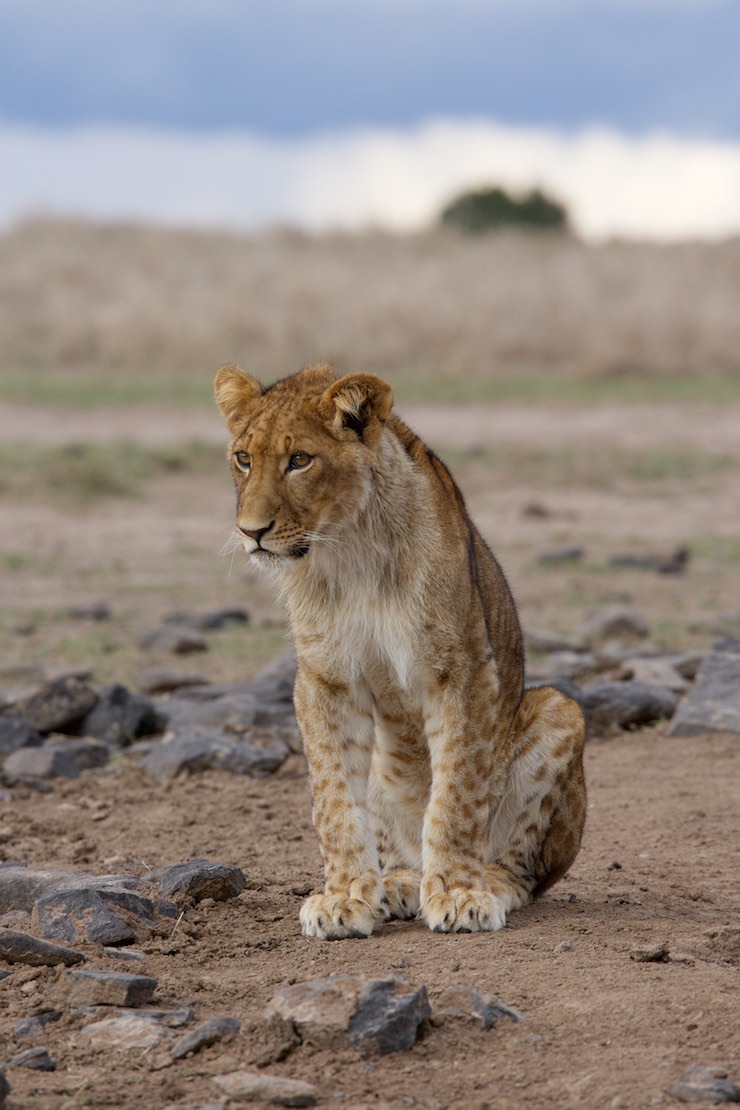 I photographed this older cub in Laikipia, Kenya last year while staying at Kicheche Camps. Her markings were absolutely gorgeous with her spots still quite prominent. (You sometimes still see these spots, although faded, on sub-adults.) She had somehow managed to be separated from her family. She was a little thin and my ranger Andrew figured she had likely been on her own for a couple of days. As she wandered away calling to her pride I said a small prayer that she would find them before nightfall. On her own her future looked bleak as she would be easy prey for hyena.
The Charleston Lion Pride of Sabi Sands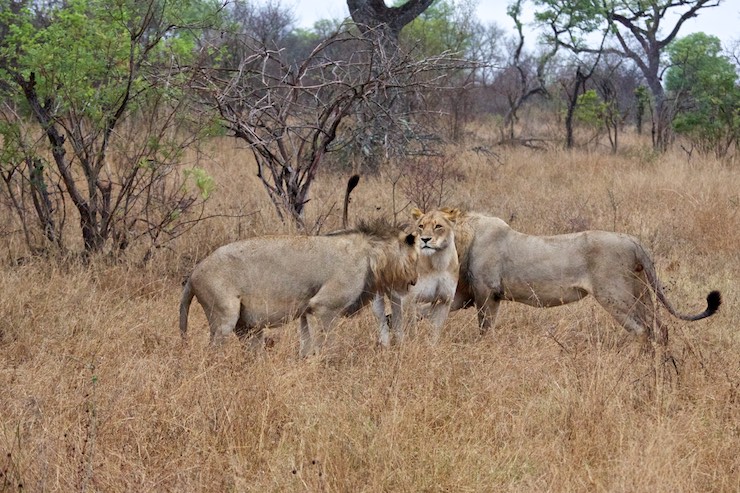 Lions are the only cat that live in groups. A pride of lions can include up to three males, over a dozen lioness and all their offsprintg. A large pride could number 40 or so. These three are what remained of the Charleston Pride when I photographed them in the Sabi Sands at Kirkman's Kamp in 2013. The two sub-adults were living alone with their aunt after their mother and several others were killed by a neighbouring pride when they were young cubs. (See Lions at Night for more.) The aunt did a formidable job raising them and keeping them safe after losing her sisters. Male lions will be fully grown at about three years old and will leave the pride to make out on their own. These two males, maybe 2+ years old, were preparing for the challenges ahead.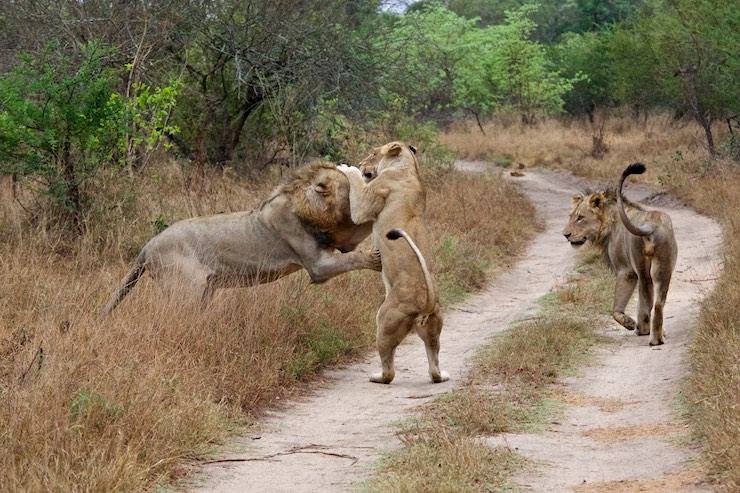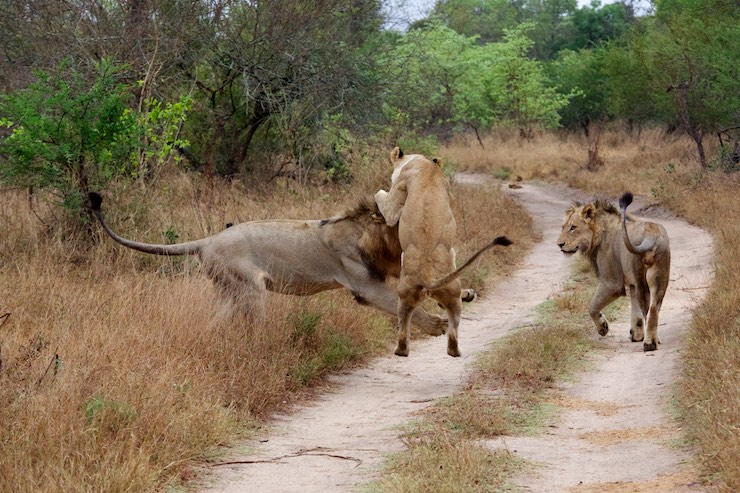 Healthy Cubs in the OMC
Last year I travelled to Kenya and was not disappointed with the young lion life I was able to photograph! These youngsters were all in the Olare Orok Conservancy on the Mara and I enjoyed the time I spent with them thanks to Patrick at Kicheche Bush Camp.
The Lion Cubs of the Mara North
But perhaps my very favourite lion sightings came last year at Alex Walker's Ngare camp in the Mara North Conservancy. My guides introduced me to three different sets of cubs, all still living alone with Mom. These were all the youngest cubs I had yet to see! A lioness gives birth after about 110 days and she keeps her cubs separate from the pride for up to 6 weeks. Not even Dad is allowed to visit. The cubs I saw ranged in age from less than two weeks old to about 4 weeks old. I am really excited to be returning to Ngare Serian this fall and hope to photograph them again, re-united with the rest of thier family!
In celebration of World Lion Day, here are the lion cubs of the Mara North–long may they live!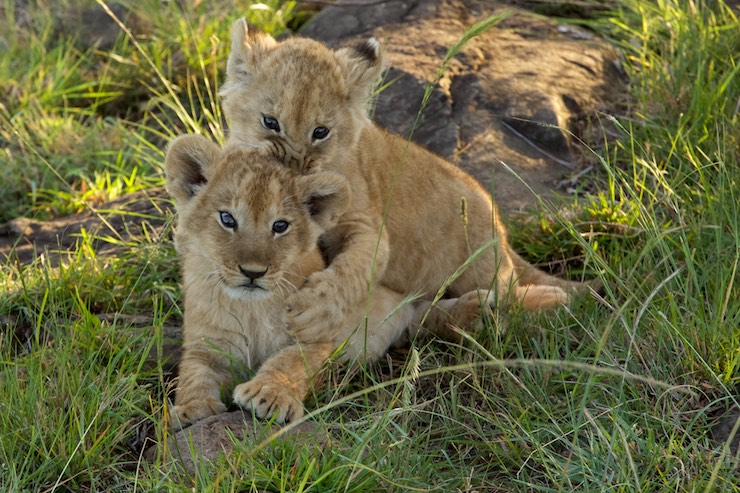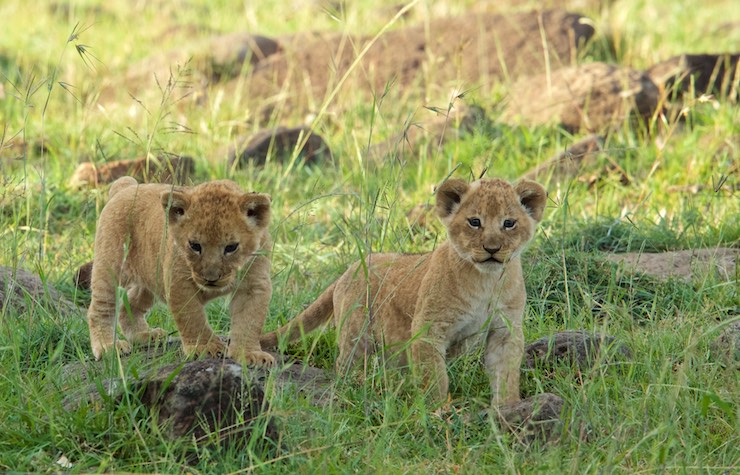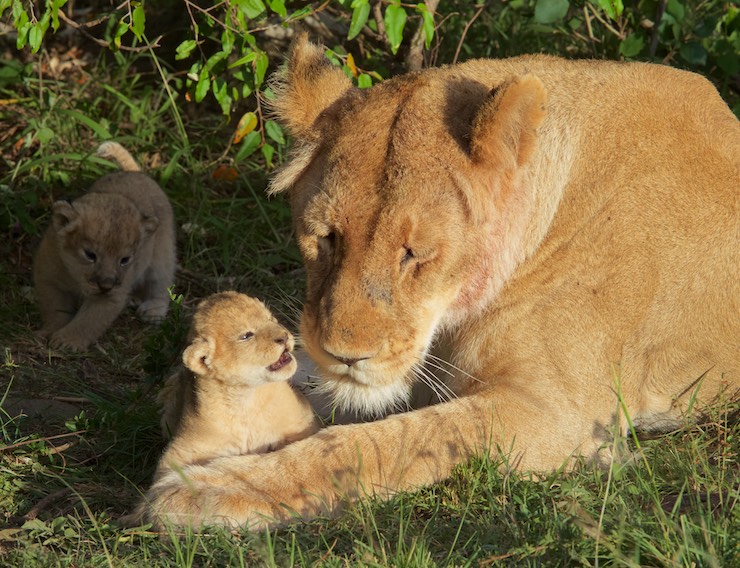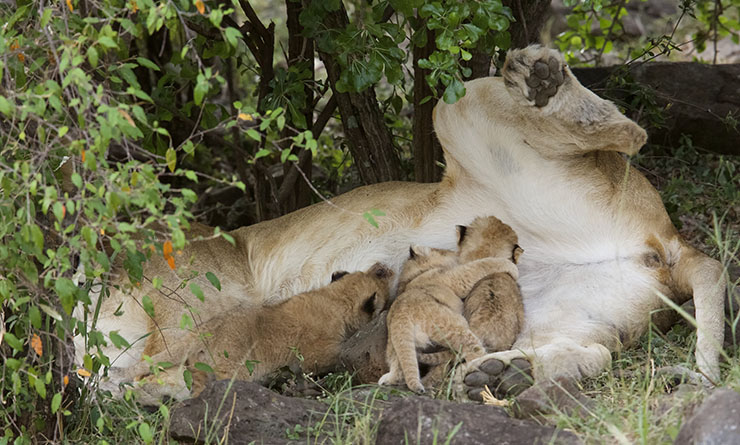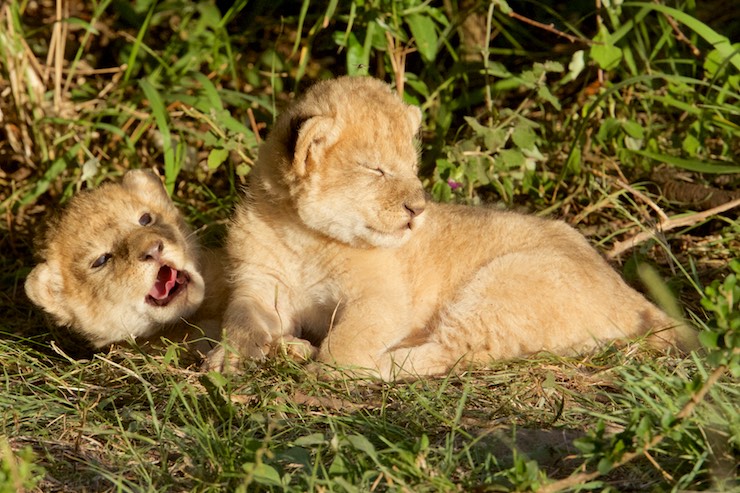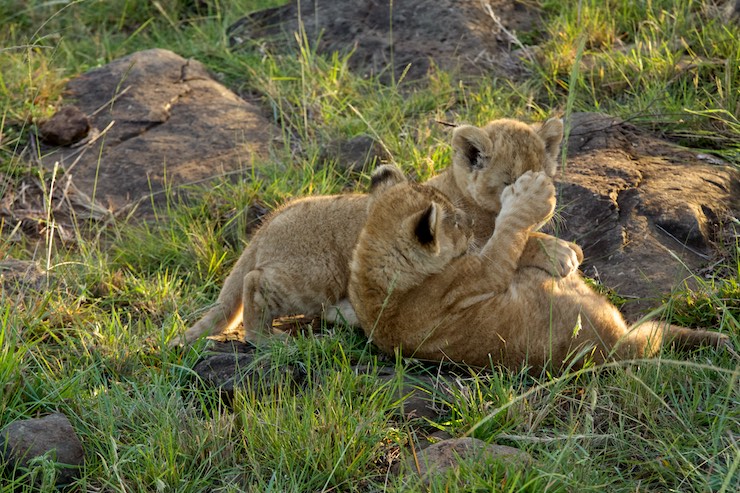 Pantera leo evolved in Africa as long as 800,000 years ago. Can it really be that they will perish under our watch? I sincerely hope the tides will turn and humanity will realize the steep price we will pay if we allow these formidable carnivores–the apex predator on the African continent–to disappear.
I cannot imagine a world without them…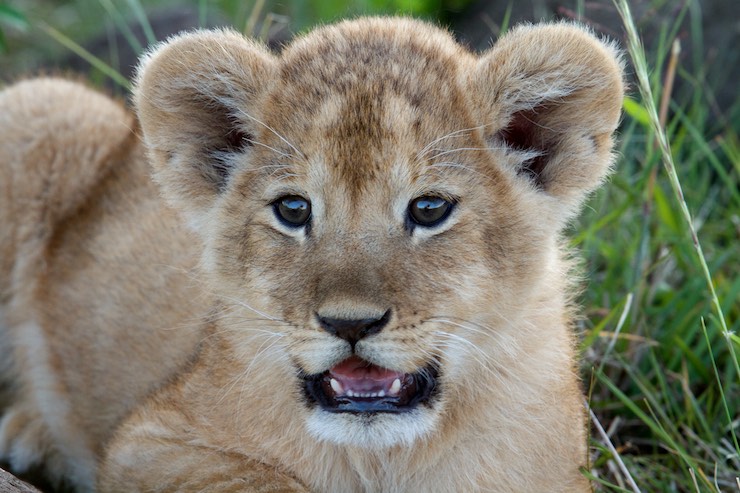 For more lions…
World Lion Day: Long Live the King!
A Pride of lions following the migration in Ndutu takes a nap…bellies full!
Please consider signing up for NJ Wight's Wild! Life