World Rhino Day September 22–5 Species Forever!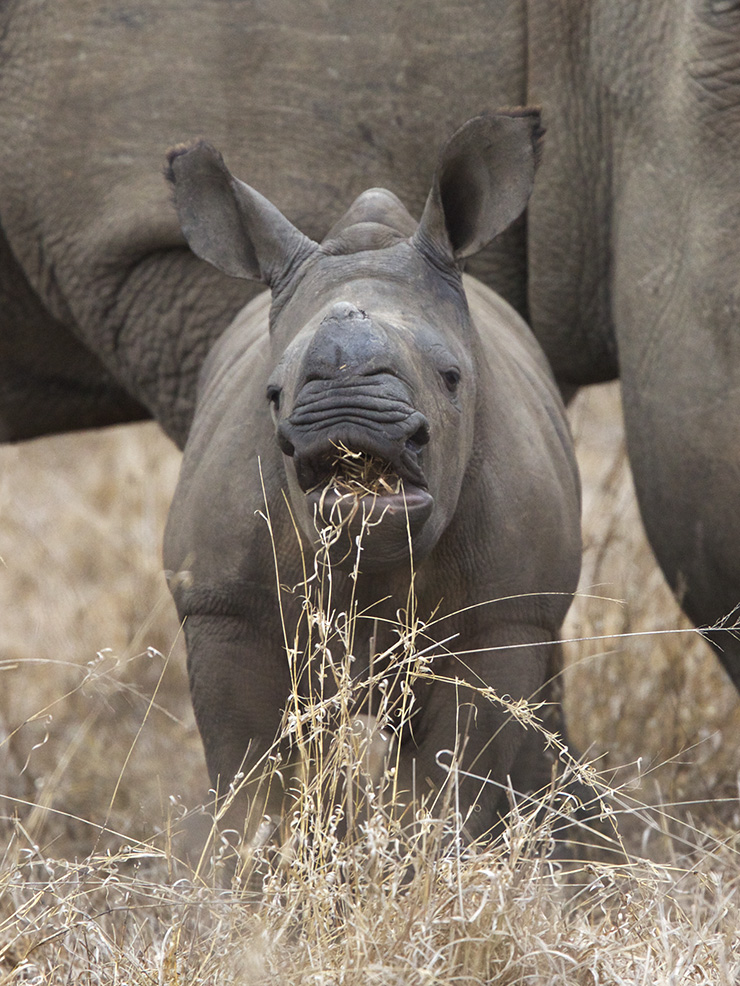 A mountainous marvel of animal engineering, the rhinoceros is like no other. Leathery and lined, massive and muscled, his noble horn a cautionary prelude to a quiet, determined stare. The rhino is at once, a prehistoric relic and a 21st century icon.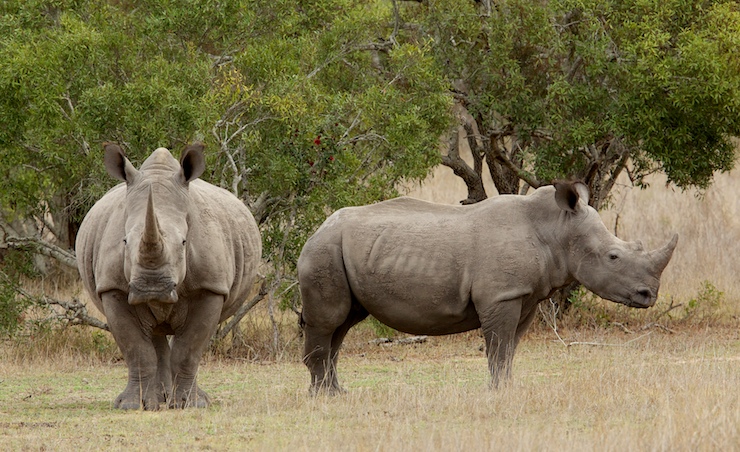 World Rhino Day Statistics
I cannot imagine a world without these iconic creatures. And yet, this could happen–in my lifetime. In South Africa, where approximately 80% of the world rhino population lives, Save the Rhino has reported 618 known rhino killings as of July 31, 2014. This is just short of 2012's annual total of 698 and on the way to surpassing 2013's devastating count of 1004 deaths. (http://www.savetherhino.org) De-horning, injecting horns with toxins and legalizing the trade in rhino horn–all contentious debates circling the ticking time bomb of extinction.
In the past seven years I have encountered wild-living Rhinosceritidae fourteen times in three countries. They have been an exciting part of this life-changing journey towards becoming a wildlife photographer. As a visual storyteller, my aim is to invoke a passionate awakening in the soul; to lift the imagination to that remarkable place where, in a single moment, the heart connects with the mind and leads one to think and act in new ways–ways that could end the senseless killing of the earth's wild life–the senseless killing of the rhinoceros. They are running out of time…
Rhinos I have Known
I saw my first rhino in 2007 in the ngorongoro crater. Truthfully, I wasn't convinced. It may just as well have been a boulder submerged in an acre of mud. I would have to take ranger Moody at his word and embellish my story with tales of spinning wheels and splattering muck.
I would finally be rewarded with my first sightings at Phinda! Experiential travel company and Beyond have been very committed to rhino conservation on the Phinda Reserve. It is an excellent big 5 destination and it would be here, in 2008, that I would have my first chance to photograph rhinoceros. Being chased by storms and heading towards camp, our ranger Pip quickly lurched the Land Rover over the ditch. He headed off-road, bouncing us straight towards the blackening skies and …two black rhinos! We followed at a safe distance as they grazed towards the hillside. For a brief moment the sun broke through the ominous clouds, spilling a rainbow behind them. This was truly an African pot of gold. They turned towards us, halting our progress, allowing me to quickly captured my very first rhino photo, Pair of Blacks. (Or, for those of you with loftier imaginations, The Two-headed Rhino.)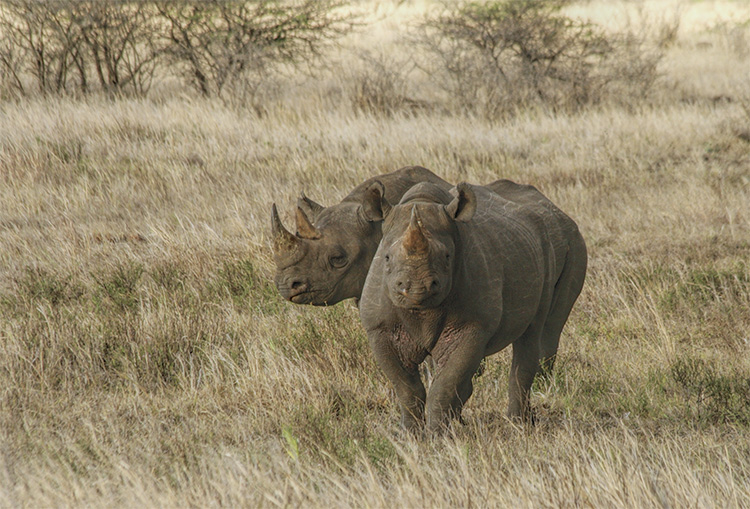 The following day would bring a rhinoceros encounter of the very close kind! Coming up on four grazing white rhinos on the roadside, we pulled over to enjoy their company. I was up in the third bench of the truck, my boot propped up on the open side, when a very calm and massive male wandered towards me. Coming closer, eyes on mine, his impressive horn dipped well into the minimum focus distance of my 70-300 F4-5.6. He sniffed my boot and backed away, seemingly very satisfied with my hygiene. It's a wonder I had the presence of mind to hit the shutter…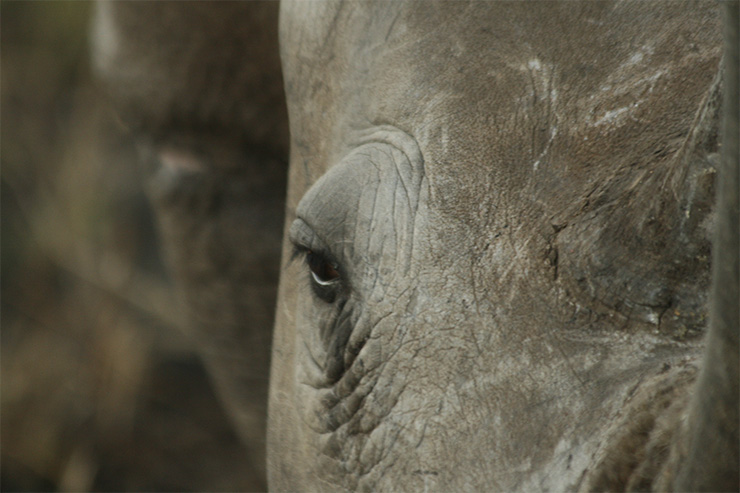 The Rhinos of Kenya's Lewa Downs
In 2010, with a more defined vision and a bag loaded with a Canon 7D and new L lenses, I landed in Kenya's Lewa Downs. I had specifically chosen the Lewa Wildlife Conservancy as it has a conservation mandate and is home to 10% of Kenya's rhinos. It did not disappoint. Within twenty minutes of landing I was photographing my very first Crash of Rhino! For the next three days we saw black, white or both, on every drive.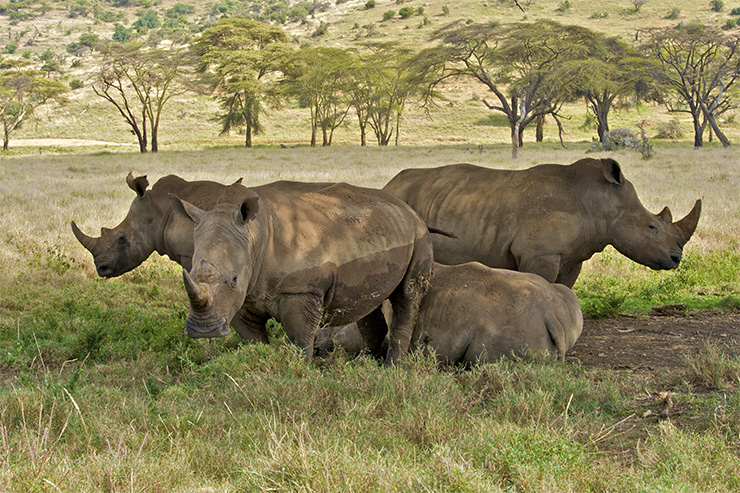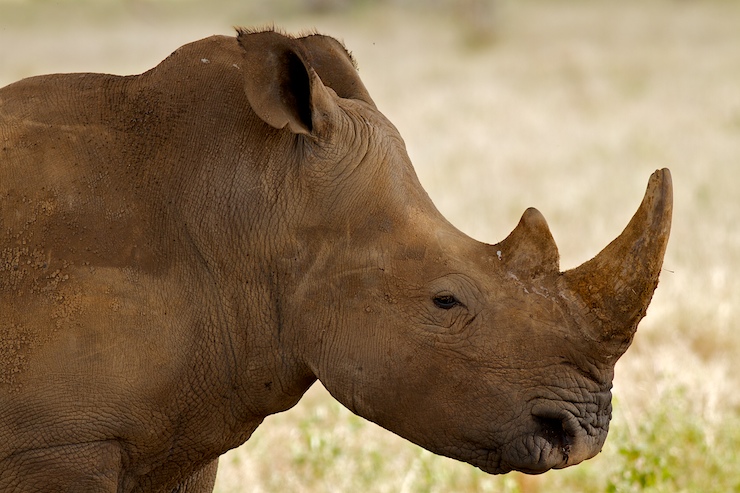 On our second afternoon we noticed a dark shape on the hillside and two sharp horns dissecting the long, golden grass; a black rhino Mom with her very young calf. We kept a good distance so as not to stress the family but the little one caught wind of us and stood at attention until curiosity got the best of Mom and she slowly lifted her bulk. Gazing at us for several moments and determining we were no real threat, they provided a lovely photo op until Mom stared us into retreat.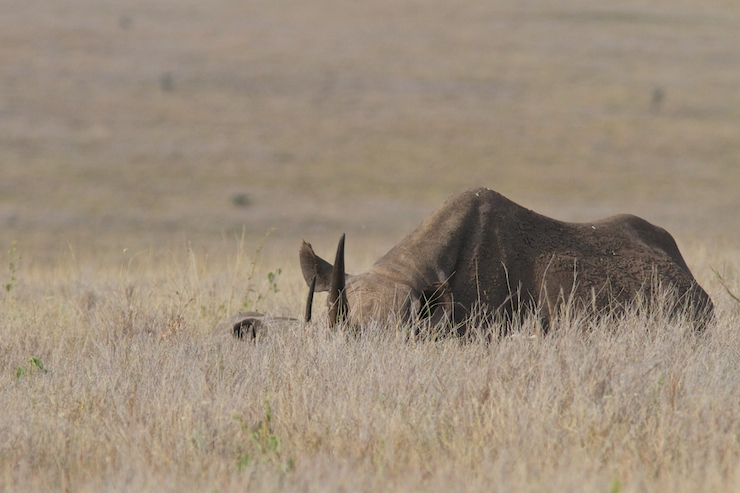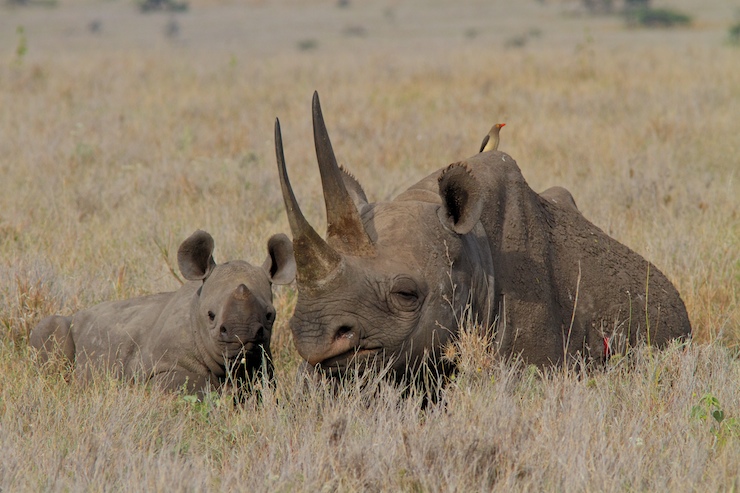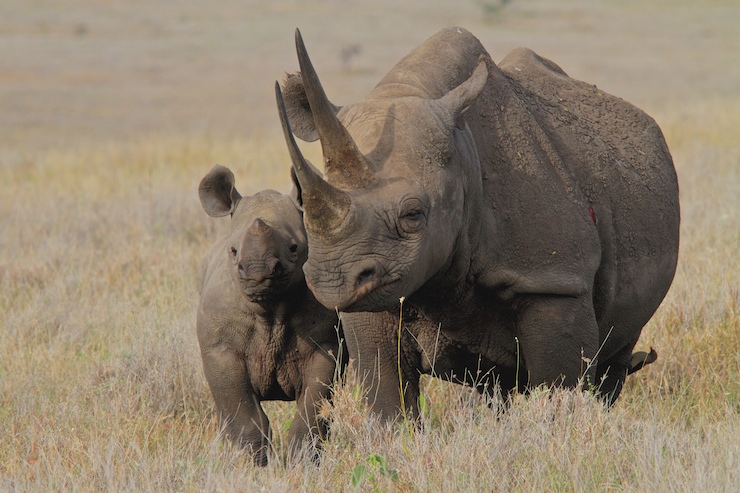 Lewa afforded several opportunities to get quite close to rhinoceros, providing valuable learning situations. Keep a close eye on your f-stop–especially for portraits. Depending on how close you are, with a full-grown adult looking straight at you, it can take a full stop or two to achieve a depth of field that captures both a sharp eye and the tip of the horn.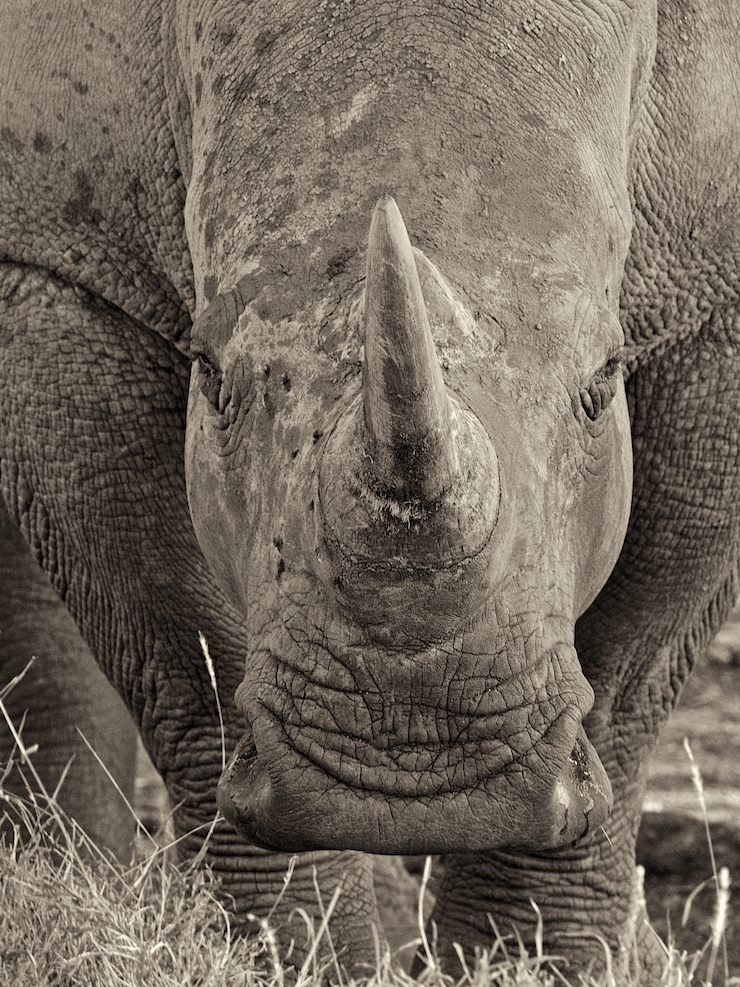 A Baby White Rhino in Sabi Sands
Last year in South Africa I was again blessed with remarkable opportunities to photograph rhinos. Given their solitary and secretive nature, they are not easily found, at times requiring serious off-road searching. It was no different at both Kirkmans and the award-winning Leadwood Lodge in the Sabi Sand Game Reserve–a brilliant destination for Africa's Big 5! On a late afternoon drive, stealing glimpses through the dense forest, I spotted a Mother and calf on the other side of the river, their distinct gray forms jumping out against the light sand. Off we drove down steep banks and across  sandy flats to where a four-month-old white rhinoceros was doing his best to nap. His giant ears earned him the nickname Little Shrek and provided the ultimate parasite snack bar for a hungry oxpecker.
Wanting to capture a different perspective and get as low an angle as possible on his face, I wedged myself between the seats and stretched out on the floor, steadying the 400 F4 DO on the door-less opening of the truck. Little Shrek, still new to the concept of a symbiotic relationship, endured the bouncing oxpecker for about two more minutes before rousing himself. On his way back to Mom he gave us a courageous mock charge–or perhaps a delightful little happy dance.

I generally find I am always making sacrifices photographing in the wild. Luckily for me, Shrek didn't have much of a horn, but the light was low and I was looking to capture his entire body in focus. Depth of field could not be sacrificed so I was left pushing the ISO on the 5D Mlll to 2500, which was quite workable with some noise filtering.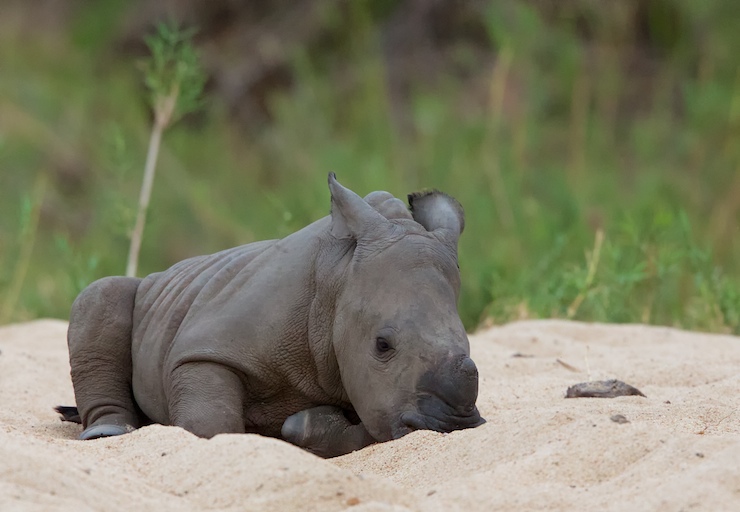 Rhino in the Rain
I am often asked if I am ever afraid in close proximity to our planet's greatest predators? I confess, I do live with one deep fear–never having enough light! It is often during the low light of early morning or just prior to sundown, when the action ignites. Throw clouds and a rainstorm into the mix and you can be searching for a workable exposure. That was the case with my next Sabi Sands encounter. We had left camp in an early drizzle, but it wasn't long before a complete downpour had me scrambling for my Gortex and making sure my camera was equally decked out in rain gear. The weather may have been unforgiving and the light fleeting, but luck was on our side as our ranger spotted an adult white rhino. He was not easy to reach but our open-sided vehicle was strategically piloted, bouncing between thorny brambles and termite mounds, getting us very close indeed! The light was flat and the wind threw the pounding rain in different directions, making it tricky to keep the glass from spotting. Droplets clung to the thorns and leafless branches while dull, dried grass popped with snatches of amber and rust as the earth erupted in colour. Wandering through it all, this magnificent square lipped male, his usual light gray hide now a dark, almost purple colour. The only sound was the rain slapping the hood and the heavy swish of the rhino grazing his way past us. Shooting at f4 with my 70-200 F4 L IS and pushing the ISO up to 10000, I worked hard to, at the very least, bring home a memory of this otherworldly encounter.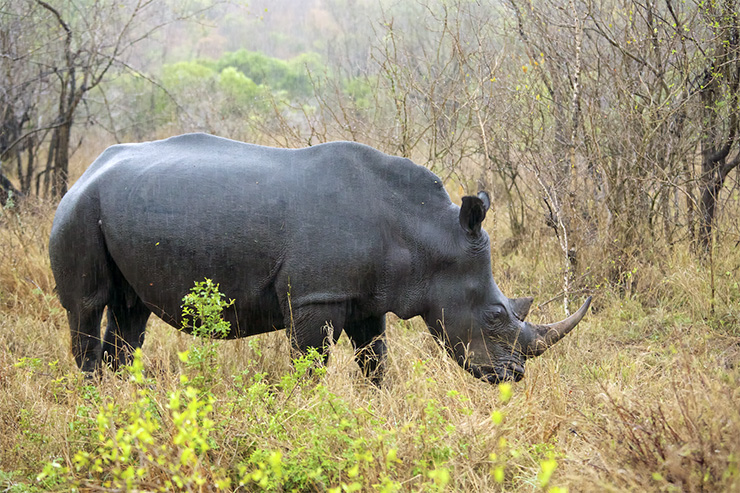 World Rhino Day: Remembering Shida
I have been very lucky to meet so many rhinoceros, but perhaps the most memorable encounter was with a seven year old black rhino that, sadly, is no longer alive. Since 1977, the world-famous David Sheldrick's Wildlife Trust has rescued more than 150 baby elephants and they have also cared for 10 black rhino orphans. Shida was one of them. He arrived at Shedrick's in 2003 at two months old and grew to be a strong, independent male. Eventually released to live freely in Nairobi National Park, he would often return to the orphanage to visit his old keepers, get a free meal and rub horns with his blind friend, Maxwell. As a foster parent of Shedick's elephants, I visited the orphanage in 2010 and was delighted to find Shida on one of his visits. Eating safely within his old stockade, I spent time within arms reach of the young rhinoceros. It was deeply affecting. I left that day with a full heart having seen the tremendous work these people do on behalf of their charges and to have met so many young animals with hope for a future because of this work.
Sadly, Shida's life was cut short. He died on March 18, 2011 after an unfortunate altercation with an adult male rhino. I am grateful for having met him–like every animal, he was a unique and emotional individual with a history, a family, friends and a home. Shida would help shape my intention as a wildlife photographer; when I lift my lens to make an image, I push to see beyond what they are, and seek to capture who they are.
Thank you Shida.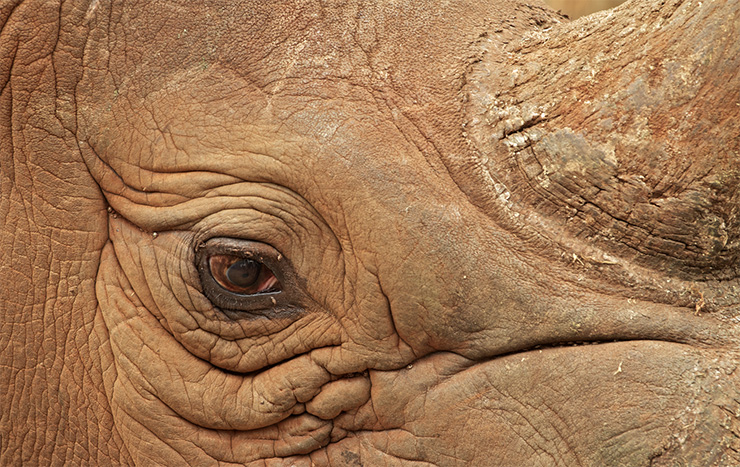 World Rhino Day is September 22-5 rhino species forever!
A modified version on this post was published in this months issue of Wildlife Photographic.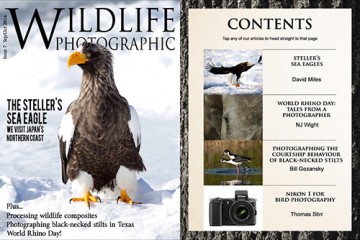 Check out World Lion Day: Long Live the King!
Thanks for sharing, pinning, liking, stumbling, digg'ing, tweeting and, well, just reading!