Wild! Adventure: A 10 Day Kenya Safari with Photographer NJ Wight
SOLD OUT:

March 2-March 12, 2018:
Dates for March 2019 coming soon!
Join me for a fabulous small group, 10 night Kenya Safari! I have visited Africa eight times and spent over 150 nights across six countries–all of them remarkable. But there are very good reasons I have returned to Kenya five times in the past four years. To me, it is the Africa of my imagination. (Make sure to read Musings in the Mara for more.) Everything I imagined an African safari could be, I have found in Kenya. Wild and wide-open spaces, gorgeous light, big skies, a blanket of stars, friendly people and more wildlife than I have seen anywhere else. It is my happy place and I cannot wait to show it to you! We are going to have a Wild! time.
Download the overview document below to get an idea of what's in store. If you are interested in further details, please sign up for my newsletter or get in touch with me here.
Watch NJ Wight discuss her passion for Africa on Breakfast Television.
Take a Ride in the Land Rover
Wondering what it is like to riding in a Land Rover out on safari? Well, it is hard to put into words, but occasionally I take my hand off my Canon 5D MIV and grab my iPhone to capture some shakey safari snippets. Join me for a compilation of moments in my happy place.
You too can fill your social media feed with safari selfies!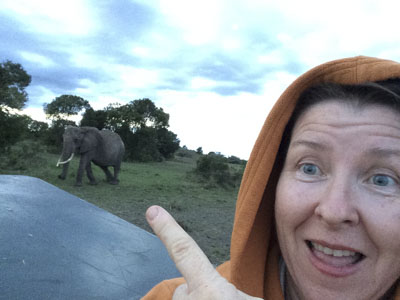 For future details on this amazing adventure, make sure you subscribe to NJ Wight's Wild! Life newsletter.